IACS Students Visit Williams Baptist University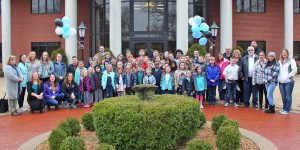 Students from the Imboden Area Charter School visited Williams Baptist University Friday, where they attended classes and toured the WBU campus.  WBU education students guided the children around campus, while Williams faculty, staff and students worked with IACS classroom teachers in leading courses and lectures.  The day culminated in activities led by physical education students in WBU's Southerland-Mabee Center.
The day was part of a community partnership between the two schools.  The program is aimed at increasing opportunities for students at both institutions and improving the community as a whole.
IACS emphasizes place-based learning, service and the use of community resources to better prepare students to be leaders.  State Senator Blake Johnson stated, "I believe this is an excellent opportunity to further the education of all involved.  It builds a strong vision for the future."
Additional cooperative efforts are planned between the two schools.  WBU students will serve as volunteers and leaders on the IACS campus, and IACS students will visit the Williams campus for various activities led by Williams' faculty, staff and students.  IACS and Williams students will work together on local community service projects, as well.
WBU is a private, Christian university in Walnut Ridge.